TechPro Layer Cage
The construction and the sections of cages are produced of galvanized sheet and hot dipped galvanized wires bearing ISO 9001 Quality Certificate.The surface galvanize cover of these materials, are equal to high standards.
[Download 1.2MB]
TechPro Layer Cage System
The TechPro layer cage system with large raising capacity and high intelligence has becoming more and more popular in modern chicken farms. It's equipped with fully automatic machine system for feeding, drinking, egg collection, manure remove and climate control.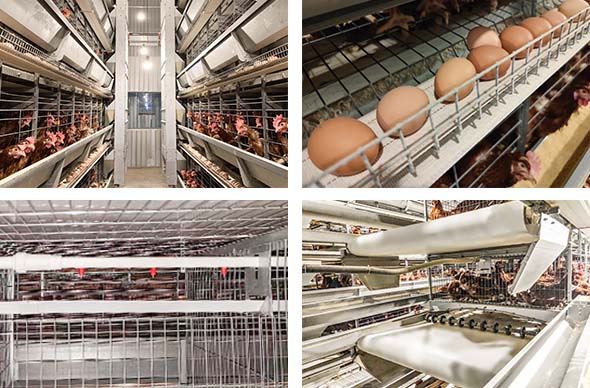 Avantages
-The cage mesh is made of zinc aluminum alloy or hot galvanized wire, which has a smooth surface to protect the chicken feet without hurt.
-The distance between two cages frame is 1.8 meter,there are 3 doors/unit, 9 birds/door, 417 sq.cm/bird.
-The GSM275 steel sheets with high corrosion resistance which keeps a long service life for the whole equipment.
-Automatic feeding hopper with fully enclosed design, it's avoided dust into it and reduce the incidence of chicken respiratory disease.
How may we help you?
We will be more than happy to answer any questions you might have. Suggestions and criticism are also appreciated. Please contact one of our many representations worldwide.
You are also welcome to use our form instead (The fields marked with * must be completed to ensure a speedy response):
Get free informational material
Let us send you the required information by post. Just click on this link to let us know which products you are interested in.