HENAN POUL TECH teams visit the Headquarters of FIENHAGE
2016-12-01
In November 2016, before the EUROTIER exhibition in Hanover, Harry and Wilson, representatives of Henan Poul Tech machinery Co., Ltd, organized a domestic customer group to purchase European automation equipment to visit Germany Fienhage, with more than 20 clients, including Beijing egg Processing association, feed animal protection manufacturers, large-scale chicken farms, etc., making the inspection of Fienhage's factory and the surrounding farmers who use of Fienhage's batter cage equipment.
The people of Fienhage show a warm welcome to the client group. They are patient and professional on all the issues of the client group. All members of the client are surprised at Fienhage's excellent production and processing technology, product quality and lead Industry management standards and concepts. So a customer in Henan on behalf of the customer group make a asking for Fienhage's overall strength, especially the strong level of production and processing technology is certainly the world's leading, why we have not seen this brand in Chinese market? For this, vice president, Mr. Urik, said, We are not enough attention to the Chinese market before, until the end of this year's back Beijing VIV Exhibition only for the first time officially entered the Chinese market. In addition, the Chinese market customers for a variety of reasons, the stack of automation equipment, the demand is start in nearly 5 years, so they rarely went to other coutries visit the supplier. The client is deeply agreed to Mr. Urik's views. At the same time, Mr. Urik said that from this year, they will be jointly developing the Chinese market with HENAN POUL TECH MACHINERY CO., LTD.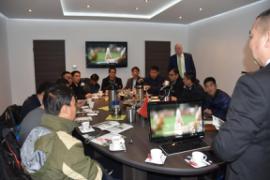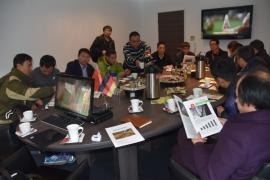 After visiting the factory, staff of Fienhage warmly serve the customer group to have a meal, and later they visited several large-scale chicken farms which used Fienhage's equipment in the Ruhr Region. Members of the customer group are praised for strict animal welfare standards of the EU, and they are impressed by Fienhage's strict installation standard. From the strict installation standard,it shows rigorous style of work of Fienhage company.All the customers said that: not only the perfect operation of the equipment needs High-quality products, but also need a high standard of packaging, transport, installation and inspection.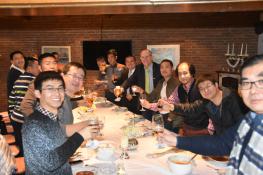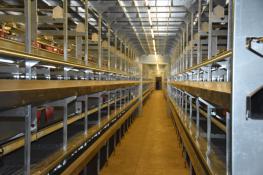 Pre:
2016 exhibition plan
Next:
Henan Poul Tech Machinery Co., Ltd and Germany FIENHAGE officially signed the "Joint development of China market cooperation agreement"